Copyright School and F.A.Q.


What is Copyright and how can I claim it?

Copyright is the system which gives the creators of original pieces of work such as written texts, movies, songs, images, software etc. the exclusive rights to control the use and exploitation of these works.
Copyright comes into effect at the point of creation, automatically.


If Copyright is automatic, why do I need to register it?

You are automatically the owner of the copyright on any original works you create, but the problem arises when someone infringes your work and you have to prove that you were the original creator. Without independent, third party verification that you were the original creator, defending your copyright is unlikely to be successful.
Registering your copyright material creates an independent and indisputable record that you are claiming the rights associated with copyright at that particular date and time. We also suggest uploading drafts and early versions of your material as it is created to increase the evidence, see What is the best way to use ProveMyCopyright.com? below...


How does ProveMyCopyright help me register my copyright?

ProveMyCopyright provides indisputable proof that you are registering your creation with us at a fixed time and date. Because we are an independent third party, we can be used as proof that you have created some material and uploaded it to our system at that moment in time.
It is obviously best to upload your content as soon as possible to minimise the risk of someone else staking a claim before you. This is why we created the account system allowing you to upload as many files as you wish, even in draft form without facing additional fees.


What is the best way to use ProveMyCopyright.com?

Proving your copyright is about having independent verification of the fact you were the original creator of the material. Keeping copies of all your drafts and any other material that shows your connection with the particular copyright material as you develop it can be useful evidence if you ever have to prove that you are the author.
This is the reason we built the service with a 5Gb account so that as you make drafts or changes etc. you can upload them and show the path you have taken to get to the final material. We suggest uploading to the registry at every opportunity instead of waiting for a finished version before registering.
Of course, if you have existing finished versions it is best to get them uploaded sooner rather than later.


What do I get from ProveMyCopyright.com?

When you sign up to ProveMyCopyright you get 5Gb of account space where you can upload hundreds of files. Each time you upload a file we instantly take a "Digital Fingerprint" and a "Timestamp". The fingerprint contains all the information to verify the exact contents of the file and the timestamp shows an independent record of when the file was transferred. This information can never be changed and is your proof of copyright registration.
As soon as this data is captured, you will be able to see it under the "Your files" section of your account. We also email you a full record of these details giving you proof of copyright registration straight away. You should keep this email for your records.

In addition, your account also acts as a file storage backup for these important files. If your original computer was to be damaged or infected by a virus, you would be able to download a copy of your files at the touch of a button. The service is fast and secure with only you having the ability to access your files.


Can I try a demo?

Yes. You can login to the demonstration area by using the log-in box to the right with the Username: practice and Password: practice
This lets you check the ease of use and the good speed of the service. However, you will not be sent email certificates of your uploads for obvious reasons in demo mode.


What countries does this cover?

As of 2008 there are 163 countries which have signed up to what is known as the "Berne Convention" which is the international agreement on copyright, the basis of the copyright laws.
You can see these countries marked in blue on the map below (source: Wikipedia).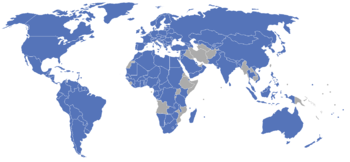 Is registering with ProveMyCopright the same as a US Copyright?

ProveMyCopyright was originally designed for those who did not have access to the US Copyright Office or could not afford to register every piece of work they wished to with the US Copyright Office.
Only the US Copyright Office can issue what is known as a formal registration of copyright in the US for works that have their origin in the US. Instead, ProveMyCopyright.com offers third party independent proof that you are claiming the rights associated with copyright at that particular date and time.
If you are an American citizen or company and are planning to file an infringement suit in the US, you will have to register the material in question with the US Copyright office before launching the legal action. This does not affect copyright owners outside the US (even if they need to bring a legal case in the US). It also does not affect cases filed outside the US.
We want all our clients to be protected so for those people who have created works of U.S origin, it would be recommended to read through the U.S. Copyright Office's webpage to decide which service would suit them best.

Some benefits of using ProveMyCopyright are that the work is registered immediately instead of taking 4 -6 months, you pay a single fee for a massive 5Gb worth of material instead of between $35 and $45 per submission and that your files are securely backed up so you will always have access to full versions of your material as long as your account is valid.


What is the "Digital Fingerprint" and "Timestamp"?

The "Digital Fingerprint" is a md5 checksum of your file. This is a technical term for a process which creates a 32 digit file identification number that is virtually unique to your file. It can be used to show that the file you uploaded and the file that you claim copyright on are the same. This fingerprint gets stored alongside each file as its "Unique ID" and is also emailed to you in the report each time you upload a file.

The "Timestamp" is taken by our server each time you upload a file. It has nothing to do with your computer and you CAN NOT influence it in anyway. This is what gives INDEPENDENT proof of the date and time you register the file. Again, the timestamp is saved alongside each file and is emailed in the report as well as viewed in your account details.


Are my files secure?

Your files will be available to download at all times, but will be accessible only by you through your secure account. The files are not accessible to anyone else, not even employees at ProveMyCopyright.com.
We back-up our servers every day to ensure the ruggedness of our service.


How long are my files registered/available for?

The short answer is that copyright normally lasts for the lifetime of the original author plus 70 years and your access to the backups of your files will last for the lifetime of your account, plus 5 years!!!
Your file registration account lasts for 1 year and when it is up for renewal we will contact you. If you allow your account to expire you will no longer be able to upload any new files.
You will be able to access all your existing files and the registration data for them for a period of 5 years after your account expires, you just cannot upload anything new.